Mulching is especially important in Central Florida. This critical part of landscaping and gardening is often overlooked. Mulch not only has an attractive look, it also keeps plant roots cool in our intense heat, it also suppresses weeds. 
Pine bark of various sizes and textures are a great choice, but crushes stone, such as marble chips are quickly gaining popularity. 
Why Use Marble Chips for Mulch
Marble mulch is marble that has been broken up into chips. It is then used similarly at organic pine bark mulch. It is spread around plants.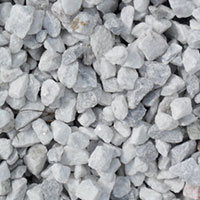 That advantages of marble mulch
Since marble chips are heavy they won't blow or float away like organic pine mulch. It is also not biodegradable, so you won't have to go through the trouble of replacing it every year. 
One thing to note, marble chips tend to have a very high pH level. Over time it will leach out into the soil, which most plants like because it makes the soil more alkaline. Just be mindful not to plants that prefer acid soil. 
True, the initial cost to use marble chips may be higher than organic mulch, but in the long run you can actually save money because marble and rocks won't have to be replaced. 
Marble mulch is perfect for that area that may not get a lot of sun and stay wet for a long time after it rains. Marble won't provide a breading ground for diseases, mold, or pests. They are also great at controlling erosion. 
Marble chips definitely add beautiful aesthetic value to any property. They have a clean, upscale appeal. Another advantage is they are not flammable, making them an excellent choice for grills and fire pits. They also keep areas looking neat and tidy, such as around ponds and swimming pools. 
Reliable Peat makes improving your landscape easy! Don't forget to take advantage of our special, 10% off all bulk orders over 6 yards.
With two convenient locations serve you, Winter Garden: 407-656-9766 | Groveland: 352-326-5432. Our goal at Reliable Peat is to offer the highest quality products at the best price