Mulch is a key step in Central Florida landscapes and gardens. Now is the perfect time to apply a fresh layer of mulch to improve plant health and enhance the appearance of your landscape.
Is it really necessary to add mulch every year?
Sure, mulch improves the look of flower beds and landscapes by providing a beautiful background for plants and flowers to pop. Mulch also creates a more defined and polished feel. But the benefits of mulch go well beyond aesthetics.
Mulch is necessary for healthy plants and landscapes.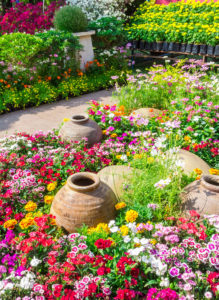 Insulates soiled protected plant roots from fluctuating temperatures
Help retain moisture in the soil
Prevents erosion
Suppresses growth of weeds
Reduces damage from lawn mowers
Add vital nutrients to plants
Mulch can be bought just about anywhere, but not all mulch is the same. The first step to a great looking landscape is quality mulch. Finding a reputable source may take some research and bypassing the big box stores. Just because it is convenient, doesn't make it the best source.
Often times, the best place to purchase garden material is somewhere who specializes in mulch and soil. They can help you decide what type of mulch is best for your project and how much you will need.  If you are looking for convenience, ask them to have it delivered to your home.
Reliable Peat offers the best quality, a premium not often found in bag mulch from big box stores. If you have any doubts, just look at the mulch itself. When you walk up to a pile of bulk mulch you can clearly physically see and even smell the quality. While bag mulch is a different story. It is hiding behind labels and logos. Often times it is wet and moldy, or even a different color than you were expecting.
We encourage you to stop by our shop at
Reliable Peat Company
26744 CR 33
Groveland, FL 34736
Or give us a call at Toll Free: 800-428-0101. or Local: 352-326-5432