Here in Central Florida our landscapes encounter many issues. Yards with slopes, shaded areas where nothing will grow, low areas that turn into a swamp during the rainy season, the list goes on and on. 
Simple solutions to common landscape problems 
An eroding slope
Even a small slope in your yard can create flooding and erosion. Dry creek beds on the slope is similar to a trough or gully filled with rocks of different sizes directs the flow of water.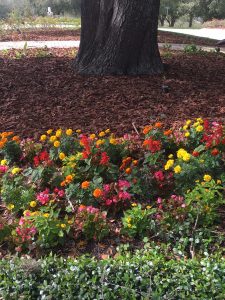 Shaded areas where nothing grows
Here in Florida we love our large trees that create shade and even reduce our electric bill by keeping our house cool. But inevitable that area under the tree becomes bare and even unsightly. No matter how hard we try, we can't keep the grass and plants under the tree alive. 
The solution: A shade garden. Using organic mulch around the tree with a defined outline and landscape edging around the border of the mulch. This natural transition accentuates the beauty of the tree, but also releases vital nutrients into the soil. Just remember not to build up the mulch around the trunk of the tree. 
Better Homes & Garden suggests, "Large, smooth rocks add a natural element to the space and will help to keep weeds from growing. You can also use landscape lights below trees for a dramatic nighttime accent that will create silhouettes and shadows. Place small container gardens in open spaces to add height and contrast. Under a tree is also a great location for a fairy garden or toad house.
Low areas
With our afternoon thunderstorms, it doesn't take long before you have a muddy mess. Similar to a dry creek, a French drain allows water to flow down through gravel. By digging out a shallow depression and fill it with rocks allows the water to slowly percolate into the earth. 
If you have problem areas in your landscape or want to spruce it up for the holidays, contact Reliable Peat. We will be happy to help you with a simple solution. Our quality organic mulch and rocks are used around Central Florida.