If you are searching for a "landscape mulch on sale near me",  in or around Clermont, there will probably be plenty of big box stores that pop up. While these stores may seem like a good enough place to mulch, there is some place better, Reliable Peat.
The Advantages Of Quality Mulch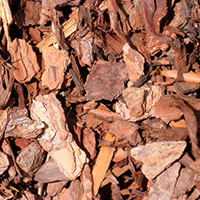 While it may not seem like a big deal, the quality of your mulch matters. Why? Because of its effectiveness.
Purchasing lesser quality mulch can end of being a waste of money, effort and a great deal of frustration.
Just a quick search on the internet and you can find nightmare stories about mulch – purchased from a big box store – containing hazardous toxins, foreign weed species, and construction waste.
Purchasing quality mulch from Reliable Peat, has many benefits.
Fresher mulch means better soil enrichment
Do you know how old the mulch is that you purchase in a big box store? The fact is, it can be several months to several years old! Fresh mulch, on the other hand, will feed your soil, increasing beneficial microbes. These microbes increase nitrogen in the soil and keep it available to the tree roots and plants to use, providing maximum benefit
Consistency
When landscape mulch is sourced from the same location it has a uniformed appearance. Bags of mulch at big box stores are sourced from several different places, leading to inconsistency.
Expertise
The Reliable Peat family has been around for generations. We are committed to helping Lake county and surrounding areas look their best. Here at Reliable Peat we go the extra mile to understand your unique landscape and garden needs, and know which mulch will work best for your needs.
Trust Reliable Peat for all your landscape and garden mulch needs. Our high quality mulch, consistency and knowledgeable team, ensures you get exactly what you need.
Contact Reliable Peat today for more information.