Decorative stones, rocks, and mulch can add the perfect finishing touch to your Central Florida landscape. From keeping weeds at bay, to adding beautiful curb appeal to your home, and creating that polished appearance, decorative stones are a wise investment and add value to your home.
The most popular stones on the market today include Cedar Bark Rock, River Rock, and White Marble.
Cedar Bark Rock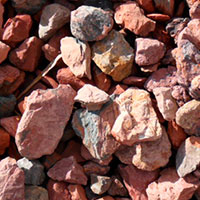 For a unique decorative stone, Cedar Bark Rock is a great choice. with a variety of sizes and depth of color, they are generally dark red and black in color. They are ideal for landscape projects and drainage issues.
River Rock
The smooth finish of river rock makes it a great option for those with young children because they are safe and easy to walk-on. The natural brown and tan tones complement and improve the curb appeal of many Central Florida homes.
White Marble
Large pieces of marble are cut up to make beautiful marble stones. They can make any landscaping really stand out in the neighborhood and make your home shine. A great option for walkways and driveways.
Timberlite
These rocks have a beautiful bright tan and brown colors. If you are looking for something not many people these rocks are a perfect. They are also an economical choice.
Decorative landscaping stones and rocks are durable and will add amazing curb appeal for decades.
Take these few factors into consideration when selecting rocks for your home
To calculate how many square feet of stones you will need, just measure the square feet of your landscape project. Then multiply this number by the depth of stone you plan to use. This will give you the number of cubic feet you will need. Or just call the professionals at Reliable Peat.
• 1 cubic yard covers approximately 108 sq. ft. at 3″ thick.
• 1 cubic yard covers approximately 81 sq. ft. at 4″ thick.
For walkways and dog runs, rounder smaller stones are easier to walk on.
For driveways choose a hard stone.
For filtration of storm water, angular rocks create more space between the rocks.
Remember rocks are heavy, it is more cost effective to have them delivered to your home.
At Reliable Peat, you can find the perfect rocks or organic mulch for your landscape project. Best of all, it will also fit your budget. With two convenient locations, Winter Garden: 407-656-9766 | Groveland: 352-326-5432