Mulch is an important aspect of any Central Florida landscape and garden.  Pine bark is very popular for our environment, not only is it sustainable, it provides plenty of nutrients to the soil, retains moisture, minimizes weed growth, and looks amazing!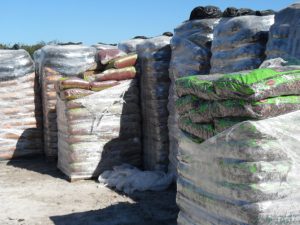 Bagged mulch can be purchased pretty inexpensively from just about anywhere nowadays. But unfortunately, some of them can be more harmful than beneficial because they contain contaminants and weed seeds. The last thing you want is to put toxins on your fruit or vegetables.
For a real bargain head to your local soil and mulch distributor and purchase quality mulch for about the same price or even less than the big box stores. You can even have it delivered to your home for an added convenience.
Reliable Peat is family owned and operated, serving the horticulture industry since 1982. We are Florida's premier organic mulch, stones, and custom blend soil manufacture. Also, we are members of the FNGLS and FANN Native Plant Association.  
We are proud of over 30 years of customer satisfaction. We focus on only the highest quality ingredients at the best price to give our customers exactly what they are looking for Winter Garden: 407-656-9766 | Groveland: 352-326-5432.
Just look at what some of our customers are saying about us:
Excellent service. I wanted a soil amendment for my vegetable garden. Steve at Winter Garden location gave me sound advice. I wanted my soil delivered today or tomorrow. He told me that they don't deliver on Saturday. So he helped me with his delivery today, even though he was pretty much booked for deliveries. When I went back home, the delivery truck was just behind me! I offered Steve extra money for expedited delivery and he REFUSED to accept extra money. Service was beyond my expectations. Harshad Patel
This is my go too for dirt and rocks. The two gents who work here are on point and know the business. Made a recommendation on some mixed soil. My grass is popping based on this. The delivery fee is fair and service is prompt. Stop by and get dirty!  Damian Jackson 
Good prices, good customer service, and good variety of products.Austin Butler 
 Great people! Great service! And great products!  Steve B