On average, organic mulch has to be reapplied about every year in Orlando area landscaping. High foot traffic areas, weather conditions, and irrigation may require more frequent applications. Replenishing organic mulch is necessary because it decomposes. Though mulch has many benefits to landscaping and gardens, stone has become a very popular alternative.
"Natural stone is one of the most versatile elements available for a landscape makeover. Rocks add texture and contrast, serve as a durable groundcover and require little or no maintenance," HGTV
With so many types of stones to choose from, granite, white river rock, marble chips, pea rock, cedar bark rock, seminole chips, and crushed concrete, they all have their own benefits. Applying stone to your property can save you money in the long run, purchasing stone in bulk can save even more.
Benefits of natural stone and rock mulch include: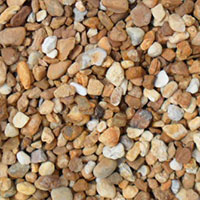 Stones and rock lasts for years without needing to be replaced
They absorb and re-circulates heat
Ideal for paths, walkways, driveways, flowerbeds, and near fountains
Stones also suppress weed growth
Larger stones are great at retaining soil
Improve water retention
Choosing the right stone is important, it will set the tone for your property. Timberlite, cedar bark rock, and brown river rock add an element of warmth. Granite and white pea rock can brighten up a shady area, marble chips can add a formal, elegant feel. White stones will make a more visible walkway or path, while multi-colored stones will have a camouflage effect.
For a walking surface smaller stones or crushed rock is a good choice because they bind together to make a more stable surface. For low traffic areas, larger and smoother stones have a greater presence.
Whether you are applying organic mulch or stone to your property, both give your home an attractive, finish look. Reliable Peat has a large variety of organic mulch and stones for your next landscaping project.
Our goal is to offer the highest quality products at the best price. We pride ourselves on top customer service and look forward to serving you.