There are a number of ways to use stones and rocks in your landscape design. Stones provide structure, aesthetics, layers, and bring life to your yard.
Connect with the landscape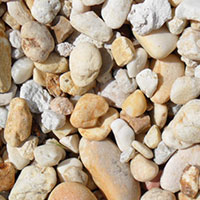 Every landscape has a beautiful focal point, it could be a colorful flower bed, a patio, shady nook, trees, or an elevated area, which can be emphasized by using stones.
Rocks and stones create an eye catching border, drawing the eyes towards the beautiful elements. Create a tiered garden on a hill, highlight a beautiful old tree by surrounding it with stones, highlight a raised flower bed, the possibilities are endless.
At Reliable Peat, we have a variety of stones to elevate your landscape. Small brown river rock, white river rock, cedar bark rock, seminole chip, granite, limestone, pea rock, large brown river rock, and snow white chips.
Pea Rock gets its name because it is the size of a pea, from 1/4 inch, 1/2 inch and 5/8 inch.
White River Rock is usually 1 inch in diameter. Great for brightening up a shady spot, creating dry creek beds, and help with drainage.
Marble Chips have a high end, luxurious feel and sparkle, generally used in high visible flower beds.
Small Brown River Rock is perfect for creating Florida friendly xeriscapes, these smooth pebbles have warm colors and help with weed control.
Cedar Bark Rock is a lightweight stone has the rich appearance of cedar bark. Very popular choice for landscapers because the natural appearance works well with many designs and it won't decay.
Create a living area
Stones can easily transform your yard into a livable outdoor area.  Create a cosy nook with outdoor table and chairs, inviting walkway through a garden with a bench or chairs, a play area for the kids, and walkways to create separate areas in the yard.
Solve drainage issues
With our afternoon thunderstorms, it doesn't take long before you have a muddy mess. Similar to a dry creek, a French drain allows water to flow down through gravel. By digging out a shallow depression and fill it with rocks allows the water to slowly percolate into the earth.
Save money by buying in bulk and having it delivered to your home
Over the last 40 years, Reliable Peat has remained committed to our promise of only using the highest quality ingredients to produce the best custom blended soils in the industry, and always listening to our customer's needs, rather than providing them with a lesser quality product.