Now is a great time to mulch your landscape and garden. Mulch can be any type of ground cover that helps prevent erosion, reduces evaporation and protect plant's roots from the sun. 
The most popular type of mulch here in Central Florida is bark mulch. It comes in a variety of sizes, textures and colors. It also adds that professional curb appeal feel to any landscape. 
According to the University of California, Agriculture and Natural Resources, "Natural inorganic mulches include gravel, pebbles, and crushed stone." In the article, 'Much Ado About Mulch', describes how organic mulch can be a gardener's best friend.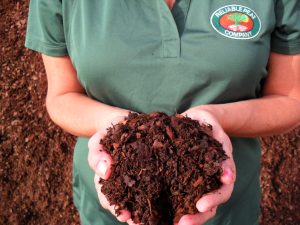 Mulch is good for the soil, and thus good for your plants for a number of reasons.  It jump-starts the useful work done by microscopic organisms (this is often referred to as microbial activity); retains moisture, thus preventing plants' roots from drying out; and deters weeds by providing a barrier between the soil and the sun.
Mulching is also a time-saver for the gardener – it takes a fraction of the time to put down mulch that it would take to weed later on.  And using mulch to control weeds reduces the use of expensive herbicides.
Want to Spice up your landscaping?
Want your landscape to stand out from your neighbors? Try using red or chocolate mulch in your flower beds and around trees. The beautiful, rich color adds depth and really stands out against the green grass and makes flowers really pop.
Reliable Peat is proud to have earned the reputation for having the highest quality products at the best price. We pride ourselves on top customer service and look forward to serving you. Don't forget to take advantage of our Summer special, we are offering 10% off all bulk orders over 6 yards, we also deliver!