The secret to a successful and almost effortless to landscape, according Chris Lambton from HGTV, "In the spring, mulch everything, because it prevents weeds. It helps the water go straight to the plants that need it rather than feeding the weeds."
Other Creative Ideas for a Low Maintenance Yard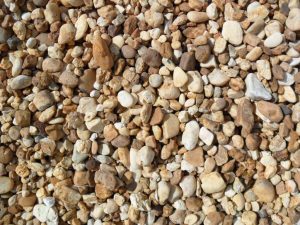 Extend your Outdoor Living Area. Covering an area with organic mulch or stone, then, design a seating area for dining, relaxing, entertaining, even a fireplace to compliment the mulch area. "Creating outdoor living spaces lends itself to low-maintenance landscaping because you can extend your home while having fewer grassy areas to care for," says Peyton Lambton from HGTVs "Going Yard". There are many types of stones such as pea stone, white stone and crushed stone that won't cost an arm and leg and feels great when you walk around barefoot.
Lay a layer of stone at least 6 to 8 inches. "It will prevent weeds and keep your patio level," says Chris. "If you have a good base, it ends up being low-maintenance for decades to come. You won't have to be weeding things, pulling up stones, and re-leveling them."
Instead of grass, create beds of mulch around your backyard living area. "It's one of the best investments you can have in your yard because mulch breaks down, fertilizes your plants, and prevents weeds," says Chris. "It's low-maintenance because you don't have to mow it or water it. It's also inexpensive and you only have to replace it in the spring."
Rocks and stones are a great option. They come in a variety of shapes and colors to match your design. "A lot of people use crushed stones in beds because it's a really good xeriscaping technique," says Chris. "Stone is also a nice option in beds because you never have to replace it."
Don't forget to add some color.  Lavender plants are relatively easy to take care of, smell amazing, and act as a natural insect repellant. Black Eye Susans and Marigolds can add life with their rich vibrant color. "If you pick plants that are native or grow well in a specific zone or area, that will keep water and pruning prices down," says Chris.
Our goal at Reliable Peat is to offer the highest quality products at the best price. We pride ourselves on top customer service and look forward to serving you. For a limited time we are offering 10% off all bulk orders over 6 yards.