Most residential homeowners in Central Florida know the benefits of using both organic mulch and rocks in their landscaping and gardens. You can see bagged mulch just about everywhere, from the big box stores to the corner gas stations. The question many people are asking is, "Where can I get the best quality with the most bang for the buck?"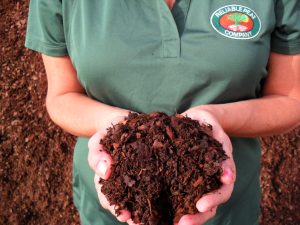 Bulk mulch from Reliable Peat offers the best quality, a premium not often found in bag mulch from big box stores. If you have any doubts, just look at the mulch itself. When you walk up to a pile of bulk mulch you can clearly physically see and even smell the quality. While bag mulch is a different story. It is hiding behind labels and logos. Often times it is wet and moldy, or even a different color than you were expecting.
For a limited time Reliable Peat is offering 10% off all bulk orders over 6 yards!
Another reason to purchase bulk mulch is for the price and convince. Bag mulch can cost twice as much as bulk and you have the added convince of it being delivered to your home. Instead of going to the store and dragging them to the car and then unloading them once you get home.
Buying mulch in bulk also reduce the amount of trash that ends up in the landfill. Just think it takes 140 bags to cover 10 yards of mulch. When you add it up, buying in bulk can make a big difference in the environment.
Shopping at your local business helps the economy. Reliable Peat takes pride in excellent customer service. We have made buying mulch easier and more affordable! Our goal is to offer the highest quality products at the best price.
Contact Reliable Peat today or stop by our Winter Garden or Groveland store.