There are many options when it comes to sprucing up your landscape. Mulch and stones are two of the most popular here in Central Florida. Both come in a beautiful array of colors and styles. While they block weeds from growing and reduce maintenance, they also have some differences. 
Stones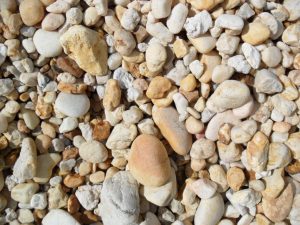 Stones are also known as gravel or rocks, they can enhance a landscape or garden. They can also save money and time over time because they don't decompose or change. 
Stones can set the tone for the rest of the landscape. For instance, if you want to brighten up a shady area, white or a lighter color is perfect. While river rocks add warmth and provide a striking contrast against the green foliage. 
They also make a great stepping stone path
According to HGTV, "A stepping stone path is a picturesque option for those shady areas alongside your house, where there is too little sun for most plants to thrive. It's also a practical way to keep shoes clean when walking up to a side door or back door. For a tidy look, surround large stepping stones with small pebbles in a contrasting color."
Stones are also great around fire pits, weather resistant, and reduces erosion. Be careful though, light colored stones can reflect heat into the soil, which can be detrimental to some plants. 
Organic Mulch 
Bark mulch is an organic material that breaks down over time, which adds vital nutrients to the soil. Though this type of mulch will need to be replaced more often than stones. According to Trees are Good, proper mulching has several benefits.
• Helps reduce soil moisture loss through evaporation
• Helps control weed germination and growth
• Insulates soil, protecting roots from extreme summer and winter temperatures
• Can improve soil biology, aeration, structure (aggregation of soil particles), and drainage over time
• Can improve soil fertility as certain mulch types decompose
• Inhibits certain plant diseases
• Reduces the likelihood of tree damage from "weed whackers" or the dreaded "lawn mower blight"
• Gives planting beds a uniform, well-cared-for look
Stones vs Organic Mulch
Both types of mulches have benefits and create a landscape or garden that look amazing! Purchasing stones and mulch in bulk can make any project more affordable.
At Reliable Peat our goal is to offer the highest quality products at the best price. We pride ourselves on top customer service and look forward to serving you.
Contact Reliable Peat for more information. We are located in Winter Garden: 407-656-9766 and Groveland: 352-326-5432.