The growing trend of creating backyard stay cations is more popular than ever. Walkways, outdoor seating area, beautiful gardens, fireplace retreats, and playgrounds.
Organic mulch, such as wood chips and bark, are the most popular playground surfaces in Florida. And why not, they are relatively inexpensive, a safe option, the natural look is attractive, simple to install, and requires very little maintenance.
The ground cover you choose should enhance the overall look of your landscaping. Creating a seamless transition from functional areas, such as the outdoor seating area, walkway, and playground, complimenting the environment.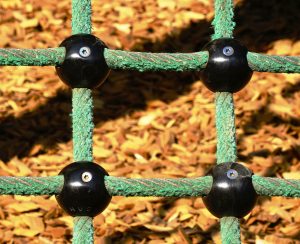 Focus on Safety
Safety should be the priority for any ground cover you choose, especially when children are involved. A playground area should be flat and have proper drainage.
You may be tempted to look into rubber mulch, but new findings show it has its drawbacks.  They have been known to leach out heavy metals, which pollutes our ground water. When rubber mulch is heated by the Florida sun it can give off noxious gases, causing pulmonary problems.
Wood mulch is excellent for playgrounds and common areas because they absorb shocks to prevent injuries. It has been shown, only 9 inches deep of wood mulch can protect children from falls up to 7 feet high. Though many playgrounds throughout Central Florida have a depth of 12 inches of mulch.
According to the National Safety Council, "Nearly 80 percent of playground injuries are caused by falls. Fall surfaces should be made of wood chips, mulch, wood fibers, sand, pea gravel and should be at least 12 inches deep."
High traffic areas, such as swings and the bottom of slides, where the mulch tends to become compacted and may need to be replaced more often. But you won't have to worry about weeds or unwanted plants intruding. Organic mulch is durable and provides a great cushion for playgrounds, walkways, and backyard retreats.
The Best Landscape Solution for Your Property
Whether it is a simple landscaping project or a major overhaul, organic mulch and rocks by bulk is easy and affordable. Contact Reliable Peat with any questions. Take advantage of our Spring special, for a limited time Reliable Peat is offering 10% off all bulk orders over 6 yards!