We've all heard the benefits of applying mulch to your yard and garden, insulating and protecting the roots from Central Florida's heat, keeping the soil moist so you don't need to water as often, it also doesn't give weeds a chance to sprout, and though mulch last a long time, when it does break down, it makes the soil healthier by feeding microorganisms. With so many types of mulch on the market today, it may be difficult to know which one is best for your property.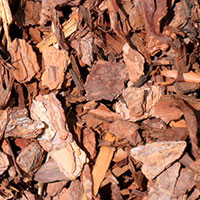 Consider where the mulch comes from, many bag mulches from hardware or home improvement stores often contain shredded construction debris, metals, and even toxic chemicals that can leach out into the drinking water. Ensure you purchase your gardening material from a reputable landscaping supply company. Not only will you be able to save money by buying in bulk, it will be clean and safe.
Keep in mind the purpose of the mulch. Fine Pine Bark less than 1-1/8 inches and Mini Pine Bark 1 to 3 inches, works for most landscapes and gardens.  Around trees Large Pine Bark 2 to 4 inches will last longer.
Bag or bulk mulch? Bags usually contains 2 cubic feet, while bulk is usually measured in cubic yards, 1 cubic yard equals 27 cubic feet. Bag mulch tends to be much more expensive, bulk mulch ordered over the phone and delivered to your home tends to cost  less than lugging all those bags around.
On average, one cubic foot of mulch 3 inches deep will cover about 4 square feet. While one cubic yard 3 inches deep cover about 110 square feet.
Reliable Peat is one of Central Florida's finest soil, peat, and landscaping supplier. We only carry top quality landscape products including mulch, rock and soil, at affordable prices. These products are available for pickup or delivery. Most items are available in both bagged and bulk quantities. Our goal is to offer the highest quality products at the best price. We pride ourselves on top customer service and look forward to serving you.