Everything organic, such as pine mulch has a 'shelf life'. Similar to the vegetables we eat, mulch comes from a living source. Like anything, once it is removed from a plant or their growing environment, it starts the decomposing process. Organic mulch is no exception, it is perishable, especially in Central Florida's hot humid climate.
How fresh is your mulch?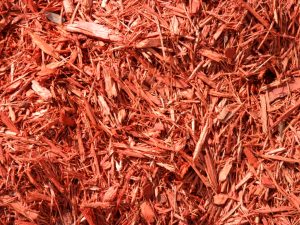 You can find bagged mulch just about anywhere, from the big box stores to the corner convenience and hardware stores. They also may suggest to have the best price, but is it really the best value?
Typically, these types of establishments pre-buy their mulch well before the anticipated season even begins. Which means it was made and bagged months before. To get rid of their old mulch, many stores even put out their old bags that weren't sold last year. When you purchase this type of mulch, it can already be over 6 months old.
You go through all the work of adding this older mulch to your landscape and it may look good, but in just a few short months or even weeks, it doesn't look nearly as nice. Why? Because the mulch was old to begin with, the decomposing process was already well underway. So, was it really the great value they made it out to be?
A locally owned and operated landscape material supply store will have fresh mulch at a great price. Since it is available in bulk, it is usually less expensive than the big box store. Instead of being several months old, the mulch is around just a week old. This means your mulch will have a longer lifespan and keep your curb appeal look great longer. It also reduces having to re-mulch as often, saving you time and money.
With a strong reputation of having fresh, quality mulches, Reliable Peat has supplied Florida's nurseries and residential home owners, for over 35 years. We have both topsoil and gardener's special organic, along with other soils to suit your needs.
We pride ourselves on top customer service and look forward to serving you. For a limited time we are offering 10% off all bulk orders over 6 yards.  Contact Reliable Peat for more information about our amazing products!