Spring is quickly approaching in Central Florida. Homeowners are out working on their gardens and landscapes. Mulch is an essential part of their plan, not only does it improve the aesthetics, it helps create healthy soil and plants to thrive.
Purchasing mulch in bulk save you time, money, and energy. Enjoy the convenience of having your mulch delivered by Reliable Peat, rather than going through the trouble of picking it up yourself.
Benefits of buying mulch in bulk and having it delivered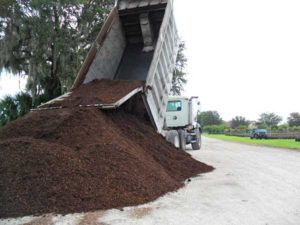 Sure, you could go to the big box store and buy mulch for your project bit by bit. Loading it onto the cart, taking it out to your vehicle, loading up and then having to unload it when you get home. Those bags can get pretty heavy!
Instead, you can have quality organic mulch delivered right to your projects door.
Not only is mulch less expensive when bought in bulk, it also offers consistency and uniformity because it is simultaneously gathered. There aren't all those thick bags that usually end up in the landfill, so it is better for the environment.
Receive any amount of mulch
When you shop the big box stores, you are limited to how many of those bags your vehicle can hold. The typical homeowner has to make several trips to the store just for the average size project, and with the cost of gas, this can really add up.
You also can get your vehicle pretty dirty and wet in the process, since the bags are kept outside. No matter how much mulch you need, Reliable Peat can deliver it to your home. If you do have a truck, we welcome you to come in person to our shop.
Reliable Peat brings quality mulch to your home
Contact Reliable Peat for mulch selections, rates, and help figuring out how much mulch you need for your project Reliable Peat is family owned and operated, we are proud to have the best customer service in the industry and making our customers #1 Groveland: 352-326-5432