Investing in mulch is a great way to ensure your garden and landscape are a success! According to the USDA Natural Resource Conservation Service, "Mulches retain moisture in the soil, slow weed growth, protect the soil from erosion, keep soil temperatures moderate, protect your plants from soilborne diseases, and keep plants and fruits clean. Organic mulches add nutrients to the soil and supply organic matter. They can reduce soil compaction and encourage the presence of beneficial organisms."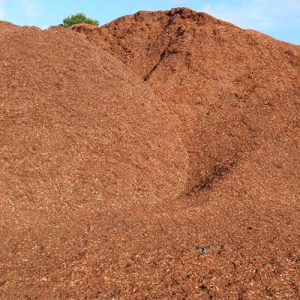 The USDA also recommends using disease free shredded bark and woodchips. While there are a variety to choose from, pine bark, chocolate, red, and cypress mulch are very popular. They are a cost effective way to get that beautiful, professional look, while nourishing plants. It is very important to use chemical free mulch for vegetable or edible gardens. Larger pine bark are great for walkways and paths. 
Inorganic mulch is very popular with residential landscapes throughout Central Florida. There are a variety of colors and sizes to choose from. They also last a very long time without needing to be replaced. Some of the most popular in Central Florida include, black slate, seminole chip, cedar bark rock, pea rock, and river rock. 
Rocks help with erosion, keeping soil from washing away in our torrential rains, it can also help direct all that rainwater away from a home's foundation.
Why Purchase Mulch in Bulk?
Purchasing mulch in bulk and having it delivered to your home will save you money, ensure the mulch is the highest quality, and makes any project easier. 
As a leader in the industry, Reliable Peat enjoys working with our customers to improve their landscape and gardens. Our products are delivered by professionals, we take the time to understand the owner specifications, instead of just dumping anywhere and rushing through the job.
Contact Reliable Peat for more information. We are located in Winter Garden: 407-656-9766 and Groveland: 352-326-5432.