When it comes to giving your Central Florida residential landscape a makeover this spring, natural stone and rocks are very versatile.
Popular for adding rich textures, beautiful aesthetics, rocks and tones are a very durable ground cover and best of all there is little to no maintenance!
Choosing a Landscape Rock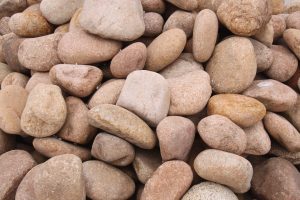 The stones or rocks you pick out will set the tone for your property. For instance, river rocks and beach pebbles create a warm inviting feel. While marble chips can brighten up a dark or shades space. Granite and crushed concrete are great for a minimalist modern look. Timberlite and seminole chips add a tropical feel to a landscape.
Check out a variety of rocks and stones at Reliable Peat. Feel free to contact one of our experts with any questions or need any assistance figuring out how much stone you will need.
Take advantage of our Spring special 10% off all bulk orders over 6 yards! We can also deliver mulch to right to your home. Reliable Peat is conveniently located in Winter Garden and Lake County. Contact us today for more information. 
Create a Beautiful Rock Garden
Rock gardens are very easy to take care of and make an eye catching focal point. A few larger rocks with small stones in between is a very popular way to incorporate this type of mulch in your landscaping.
Replace Your Current Organic Mulch
Replacing your old weather worn organic mulch will quickly give your landscape a beautiful makeover. Organic mulch, such as wood chips and bark, become weathered, break down over time, and usually need to be replaced once a year.  While rocks and stones are very durable and can last years without needing to be replaces.
Create a Centerpiece
Surrounding ornamental plants with stones creates visual interest. "Call attention to a favorite shrub or specimen tree by surrounding it with medium sized river stones. This creates the effect of a 'living sculpture'," says landscape architect Maureen Smith.
Stepping Stone Path
Whether it is on the side of your home or in the backyard, a stone path creates a picturesque scene. It is tidy look, great for keeping shoes clean and not tracking dirt into the house.