Want your Central Florida landscape to look amazing this year? Mulching is an affordable and pretty easy way to accomplish a professional looking landscape.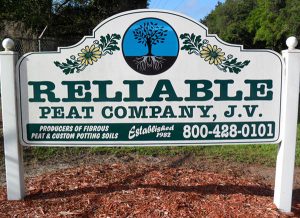 The first step is to purchase quality mulch from Reliable Peat
Big box or hardware stores seem to have a variety bagged mulch, but how old are these bags and what is exactly in them.
You may never know, until you spread it out on your flower bed and weeds start growing. Or you notice construction debris or worse, hazardous chemicals you can't see. 
When it comes to mulching, a good rule of thumb is to apply a three inch layer. You may want to remove unwanted weeds before applying mulch, but after that stones or bark mulch acts as a weed barrier for new ones. 
Applying mulch around trees is a little different. Not only does it make your yard beautiful, it helps retain moisture, keep the soil cool on very hot days, and provides vital nutrients. It is important to apply three to four inches of mulch in a circle, but leave a space of about three inches from the base of the trunk. Kind of like a donut around the trunk of the tree. This prevents decay of the bark. 
Why choose Reliable Peat for all your organic mulch, rocks, and stones
We  high quality mulch, rocks, stones, and soil. With over 30 years of customer satisfaction, we focus on only the highest quality ingredients at the best price to give our customers exactly what they are looking for. Our emphasis is to have the highest level of service in the industry and a personal touch with every customer. These products are available for pickup or delivery.
For a landscape you can be proud of, contact Reliable Peat. Or stop by one of our two locations Winter Garden 14909 W Colonial Dr, phone number 407-656-9766 and in Groveland at 26744 CR 33,  phone number 352-326-5432.