Stones and mulch are a winning combination for a beautiful landscape. Mulch gives your yard that professionally designed look, pristine and sophisticated curb appeal. Applying mulch in flower beds and around trees are classic ideas. But so many Central Florida residents are using mulch for so much more. Putting their personal style on their property and taking their landscape to the next level is easy with a variety of colors and textures of mulch on the market.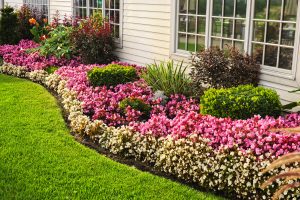 Borders
A border of stones between the mulch and grass, on walkways, flowerbeds, driveways, or perimeter of your home. This can add style and a design that will have your landscape stand out.  It also helps keep the mulch in place. 
Paths 
The newest trends in landscapes are beautiful paths. They are easy to maintain and perfect for guiding feet through your property. Using river rocks as a path through a larger patch of mulch, creates an eye catching design. 
Stones are perfect for that area where you can't get the grass to grow, the empty areas between flower beds, or line the edges of a driveway or walking path, is an easy way to give your landscape a facelift.
Several Types of Stones and Mulch to Choose From:
Organic mulch
Pine Bark, Fine – Mini – Large
Chocolate mulch
Cypres mulch 
Red mulch
Stones 
Black Slate
Seminole Chip
Cedar Bark Rock 
Small Brown River Rock 
White Sand
Pea Rock
Marble Chips
With River Rock 
Pea Rock 
Crushed Concrete 
It isn't always easy to decide which mulch to use, the friendly team at Reliable Peat will assist you in ordering the correct amount for your project.
As a leader in the industry, we carry top quality landscape products including mulch, rock and soil. These products are available for pickup or delivery.
Our goal at Reliable Peat is to offer the highest quality products at the best price. We pride ourselves on top customer service and look forward to serving you.
Contact Reliable Peat with any questions. and take advantage of our great special, for a limited time we are offering 10% off all bulk orders over 6 yards! Or stop by one of our two locations, Winter Garden at 14909 West Colonial Dr. And in Groveland an 26744 CR 33.