Mulch is a ground cover, either inorganic or organic, nourishing the soil and protects the delicate plant roots from the intense heat, limits evaporation, and discourages weeds from growing, as well as bringing beauty to your landscape and garden.
"Mulches are an increasingly important part of the Florida urban landscape. A mulched garden has better water and soil conservation. Mulches are also known to buffer soil temperature and prevent water loss from evaporation. Weed control either by inhibiting weed germination or suppressing weed growth is another benefit of mulches. These advantages and the increasing interest in mulching have resulted in a wide array of mulches available for the gardener and landscaper." University of Florida IFAS Extension. 
Types of organic bark mulch 
Large Pine Bark: Hardwood bark is very popular, it is easy to apply and looks great, with a natural rust colored hue. It also last longer than smaller mulch.
Fine Pine Bark: Lightweight, the finer, flaky texture makes it easy to handle. Decorative and stylish, great for flowers and vegetables.
Mini Pine Bark: An attractive way to add that great professional finishing touch to your landscape, with rich color.
Red Bark Mulch: The beautiful contrast between red mulch and the grass, shrubs, and flowers, can make your home really stand out. The beautiful color lasts a very long time without fading.
Chocolate Mulch: Very popular for its rich dark colored and environmentally friendly benefits. Chocolate mulch can really enhance your curb appeal.
Black Mulch: Really set your landscape apart with black mulch. It has a striking contrast with green grass and colored flowers. 
Inorganic mulch, rocks and stones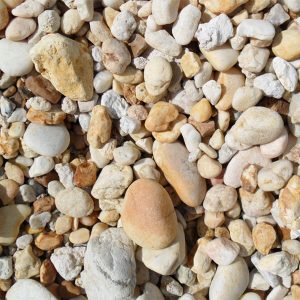 River Rock: Can easily transform an ordinary landscape or backyard into a relaxing oasis. River rocks get their beauty from years of being in rushing water, slowly creating a smooth stone. They have a smooth rounded surface, with white, tan and grey tones. They also make it easy to create eye catching designs such as an energetic water fall, walkways, water features, patios, rock garden, flower beds, and they are very affordable!
Marble Chips: Natural elegance, beautiful shades of bright white with a bit of sparkle, and durability.
Cedar Bark Rock: Gets its name because of their resemblance to natural Cedar Bark, with rich tones of red and brown.
Brown River Rock: Decorative brown, gold, and tan colors, round, smooth, and a beautiful compliment to any landscaping.
Pea Rock: Smooth texture, usually uniform in size, similar to white river rock in color just a little smaller in size, relatively light weight, and very budget friendly.
Whichever mulch you choose, get the most bang for your buck!
Bulk mulch from Reliable Peat offers the best quality, a premium not often found in bag mulch from big box stores. If you have any doubts, just look at the mulch itself.
When you walk up to a pile of bulk mulch you can clearly physically see and even smell the quality. While bag mulch is a different story. It is hiding behind labels and logos. Often times it is wet and moldy, or even a different color than you were expecting.
For a limited time Reliable Peat is offering 10% off all bulk orders over 6 yards!