Your front yard is a beautiful welcome mat for your home. While your backyard is a sanctuary where you can relax and retreat to on a hectic day. The right landscape mulch can make all the difference, enhancing it to create the perfect outdoor space. 
But with all the different types of mulch on the market, it can be difficult to choose which one is best for your landscape. When selecting mulch for your property, here are a few considerations.
The Purpose Of Your Landscape Area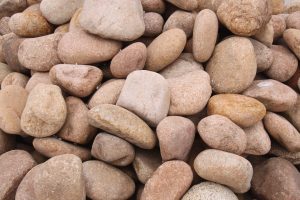 Mulch is a great landscape design tool for creating distinct spaces in your yard. A popular Central Florida trend is to use rocks under the outdoor furnishings space. Then use the same rocks to connect fire feature and barbecue area for one cohesive space. 
For a warm, comforting feel, river rock and seminole chip are both a great choice. For a sleek, modern feel, black slate or marble chips, is perfect. 
To highlight the beauty of your front yard, bark mulch is definitely worth considering. It is a classic way to decorate a plant bed and define a pathway. If you are looking for a splash of color red mulch or cedar bark rock will do the trick. 
Mulch will defend against erosion, protect plants from extreme temperatures, and suppresses the growth of weeds. They are also a great option around trees, shrubs, and gravel driveways,
Configuration Of Your Yard
Want your backyard to look more spacious and even cozier?  Mulch is the answer. Installing white river rock will make your space look larger. While the warmth of brown river rock and pine bark create an intimate space. For an eye catching visual interest, apply red mulch and cedar bark mulch around fountains, pergola, or a fire pit.
Stone And Bark Mulch
There is no question mulch can improve the look of your landscape and add value to your home, but not all mulch is the same. It is important to purchase quality mulch. Reliable Peat offers just that, superior mulch at an affordable price. We even deliver for an added convenience. Contact us today or stop by one of our two locations, Winter Garden: 407-656-9766 or Groveland: 352-326-5432.