Creating a low-maintenance, Florida-friendly landscaped yard and garden may be easier than you think. You've amended your soil with rich compost, choose beautiful plants and put them in the ground in just the right spot, and planted trees so they can help keep your home cool.
The Central Florida Gardner has great advise after all the plants are in place.  "The last step in creating that low-maintenance, sustainable landscape is mulch!"
There are many wonderful benefits of mulch: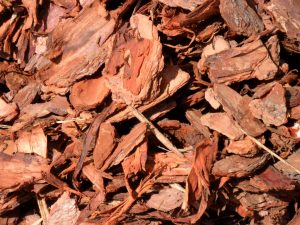 1) Reduced weed growth. For extended protection place 2 to 3 layers of newspaper around plants prior to mulching. The newspaper will breakdown slowly reducing the amount of weed seeds that are able to germinate.
2) Reduced amount of water needed to sustain plants. A 2 to 3 inch layer of mulch will protect soil from the sun's drying rays, thereby retaining moisture in the soil for a longer period of time, which equates to a savings in water useage.
3) Cools the roots of plants in the heat of summer. Plants will be less stressed if their root system can remain cool especially those who are planted in full sun.
4) Provides nutrition to the plant as it breaks down – depending on what type of mulch you use.
A trip to your local garden center may have you wondering which mulch is better and how you are going to lug all those bags from the store to the car to your landscape. Purchasing organic mulch or rocks in bulk is not only more convenient and better quality, it can also save you lots of money!
Don't Miss Reliable Peat's Spring Sale, 10% off all bulk orders of organic mulch and rocks over 6 yards and 25% off ceramic containers and weather vanes!
We are conveniently located in Winter Garden and in Lake County, we also deliver our products.
Our goal is to offer the highest quality products at the best price. We pride ourselves on top customer service and look forward to serving you.