Planning a landscape project here in Central Florida? Don't forget the mulch! This simple component is key to a beautiful landscape and healthy plants. But with so many different mulches on the market today, it can be difficult to choose the right one for your project.
Red Mulch
Red mulch is very popular here in Central Florida. This landscape mulch has beautiful color that will make your landscape stand out. The rich color stays looking great year round and is consistent throughout.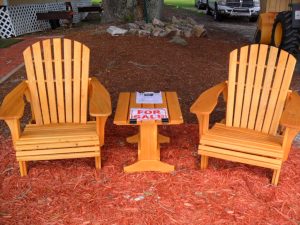 Great Addition To Any Landscape
It just takes a 3 inch layer of Red mulch to block the sun, deterring weeds from germinating, conserve moisture, reducing the need for watering, protects the roots from extreme heat and cold. This mulch is available by the bag or, for those larger projects, it is  more economical if purchased in bulk. It is also non-toxic, safe for pets, and biodegradable. Which means as it breaks down over time, it releases valuable nutrients back into the soil.
Large Pine Bark
An excellent organic, natural ground cover, used by many professional landscapers throughout the area. Pine bark is very versatile, it can be used just about anywhere, playgrounds, flower bed, around trees, garden, jogging trails, and walkways. It also helps plants by buffering the soil from extreme weather, reduce how often you have to weed or water. It is also a true soil amendment.
Chocolate Mulch
Why have the same mulch as everyone on the block? The dark, rich color of chocolate mulch can set your landscape apart from the rest. With the same great benefits of organic mulch,
If you're thinking about updating your landscaping mulch is essential. With so many on the market today, it is important to understand which mulch is right for your project.
Our goal at Reliable Peat is to offer the highest quality products at the best price. We carry top quality mulch, rock and soil. Our products are available for pickup or delivery. Most items are available in both bagged and bulk quantities.
We pride ourselves on top customer service and look forward to serving you. For a limited time we are offering 10% off all bulk orders over 6 yards.