Landscaping with organic mulch and rocks says so much about your Central Florida home. Stones comes in a variety of shapes and colors to enhance the natural beauty of your yard.
Organic mulch and stones are economical, increase the value of your property, easy to apply, stays in place, free of weeds, insects, and disease. They are also readily available, Reliable Peat is one of Central Florida's premier suppliers of quality mulch and stones at an affordable price.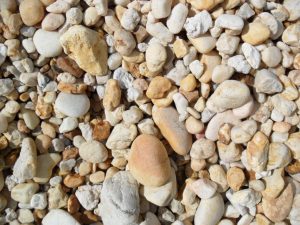 Replacing older mulch with stone is an easy DIY project.
"Rocks may be more expensive than mulch, but they have several advantages as a groundcover. The first is durability. Mulch must be replaced every season, while rocks can last the lifetime of your garden."
"Another advantage is that pale-colored stones provide striking contrast against deep-colored foliage and help brighten up shady corners of your landscape." HGTV
Each rock is unique within itself, providing your landscape with the beauty of nature. They are also maintenance free, which means no more weeding!
There are many ways to incorporate stones and rocks into your landscape. Combining different size stones, medium with smaller sizes, allows for the beauty of nature to shine.
Stones are a great way to camouflage unsightly elements, such as utility meters or ares where the grass doesn't grow.
Create the look of a 'living sculpture' by surrounding your favorite tree, shrub, or rose garden.
Rocks can create walls and highlight feature in your landscape. Such as a circle around a fire pit, rose garden, a fountain or a pool area.
Stones are a great solution for areas that flood easily or give a visual appeal to a slope.
Rocks give a seating area or garden a relaxing and zen like feeling.
Stone path and driveways are a picturesque option for keeping sand and dirt from coming into the house.
"Natural stone is one of the most versatile elements available for a landscape makeover. Rocks add texture and contrast, serve as a durable groundcover and require little or no maintenance," HGTV.
The easiest way to purchase organic mulch or stone is by bulk and having it delivered. For a limited time Reliable Peat is offering 10% off all bulk orders over 6 yards. Our goal is to offer the highest quality products at the best price.
Contact Reliable Peat for more information and to make an appointment to have your mulch delivered.