The secret to a beautifully landscaped home or business is mulch! Whether it's organic bark mulch or stone mulch it will add tremendous curb appeal to your property. Organic mulch helps plants stay healthier and live longer. It also reduces water lost through evaporation, by as much as 60 percent, which means you save on water. Stone mulch doesn't have to be replaced as often and can keep the soil from washing away in Central Florida's torrential rains.
Deciding Which Type of Mulch Best Fits Your Needs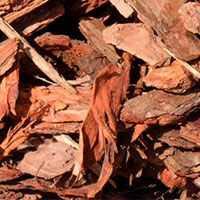 Start by asking a few questions. What do you want to accomplish with the mulch? Do you want to enrich the soil with nutrients? Enhance the visual appeal of your home? Will you be applying the mulch around your trees, flower bed, or vegetable garden? Do you want the mulch to diminish weed growth? Will there be children or animals going near the mulch? How long do you need the mulch to last? What look do you want to achieve, a classic marble stone or a rustic pine bark? What color do you want the mulch to be, something that contrast with your home or blends in? How big of an area do you want to cover, the square footage?
There are many options when it comes to mulch, the experienced staff at Reliable Peat can help you answer any questions you may have. Shop now and take advantage of Reliable Peat's Fall discount, 10% off all bulk orders over 6 yards, for both our Winter Garden and Lake county locations!
Mulch serves many purposes, from maintaining the soil moisture, preventing erosion, blocking the growth of weeds, therefore reducing maintenance, keeps the ground cooler in the hot summer months and warmer in the cooler months.
Types of Mulch
Organic mulch such as pine bark, cypress mulch or red mulch are very popular because it gives landscape that beautiful finished look. As organic mulch breaks down the nutrients will help feed the plants and trees.
Inorganic mulch is made from stone or rock such as, granite, river rock, marble chips, pea rock, and even crushed concrete. An excellent choice for driveways and walkways. It can also add an elegant dimension when placed around trees and plants. It doesn't have to be replaced as often as organic mulch because they won't decompose or blow away.
Either type of mulch you choose for your landscape project, be sure to stop by Reliable Peat for the best price and high quality. We are located in Winter Garden and in Lake County.