For many homeowners in Central Florida, mulch is known as their secret weapon for beautiful landscapes and amazing gardens.
HGTV explains why mulch makes all the difference 
It's not a glamorous starlet that steals the spotlight, but its performance can make or break a landscape design.
How does mulch benefit the landscape?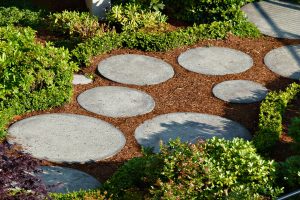 It slows water evaporation from soil, so you don't have to water as often.
It insulates soil against temperature extremes. This protects shallow-rooted plants in cold regions and coddles crops as summer sizzles.
It prevents soil compaction during downpours. Loose, uncompacted soil yields happy, healthy plant roots.
It slows storm water runoff and helps reduce soil erosion. Less runoff means planting beds are absorbing more rain.
It prevents disease organisms from splashing from soil to plant leaves, which reduces disease outbreaks.
It gives planting beds a polished look, enhancing even the most basic landscape design
Buy Mulch In Bulk
The cheapest way to buy mulch is in bulk. This is the way to go when you have multiple planting beds to cover. A local mulch company can help calculate how much mulch you need or search online for easy mulch calculators (you'll have to measure planting areas). Visit your local mulch supplier to see what kinds of mulch they offer
Healthy & Budget Friendly Mulch
It is important to consider where your mulch comes from, many bag mulches from hardware or home improvement stores often contain shredded construction debris, metals, and even toxic chemicals that can leach out into the drinking water. Ensure you purchase your gardening material from a reputable landscaping supply company.
Not only will you be able to save money by buying in bulk, you can be sure it will be clean and safe.
Contact Reliable Peat and save 10% off your next bulk order over 6 yards.