Landscape stones and rocks have become very popular here in Central Florida for many reasons. One thing to remember, to achieve superior outcomes and great curb appeal, landscaping takes a lot of effort throughout the year. Landscape stones have many benefits: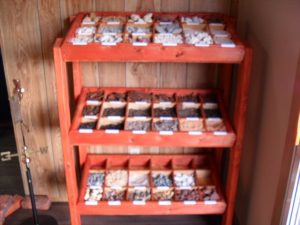 Several different types of stones to choose from 
There are more choices when it comes to stones for landscaping, when compared to bark mulch. Such as, Granite, Seminole Chip, Cedar Bark Rock, White and Brown River Rock, Pea Rock, Lime Stone, and Snow White Chips. You can mix and match to achieve any type of design you're looking for. 
A wide range of colors and sizes available
Stones come in a variety of colors, from bright white, to natural white, tans, earthy reds, and black. The size and textures also vary, from smooth river rocks to a more jagged cedar bark rock. Making it easy to accentuate your home. 
Minimal maintenance required 
Organic bark mulch needs to be reapplied every so often to keep it looking attractive and allowing your plants to take advantage of the number of benefits. While stone mulch may not contribute any nutrients to the soil, it does not need to be replaced as often. Basically, you can set it and forget it. 
High return on investment 
While stone typically has a higher up front cost, since you won't have to replenish it every year, it can definitely save you money in the long run. 
Resistant to erosion 
Because stones are heavier than bark mulch, they are better at preventing erosion. Rocks keeping soil from washing away in our torrential rains, it can also help direct all that rainwater away from a home's foundation.
Why Choose Reliable Peat?
Reliable Peat is one of Central Florida's finest soil, peat, and landscaping supplier. We only carry top quality landscape products including mulch, rocks and soil, at affordable prices. These products are available for pickup or delivery.
Our goal is to offer the highest quality products at the best price. We pride ourselves on top customer service and look forward to serving you. Contact Reliable Peat for a free quote on your next project.