What exactly is landscape mulch? Isn't all mulch pretty much the same? No! Mulch is an organic product used to protect and adorn the garden and landscape. Mulch nourishes and improves the soil, keeps the soil moist, while keeping the roots cool in the Central Florida heat.
Aesthetic is another benefit of using mulch. When your plants and trees are surrounded with a black or brown mulch, the colors of the flowers and plant life are much more radiant. They also help keep pests and insects away from your garden and plants without having to use chemical pesticides.
Organic Mulch 
One of the most popular choices for mulch here in Central Florida is hardwood mulch. It comes in a number of different textures, from fine pine bark, mini, to large pine bark. Making them the perfect medium for all your landscape and garden projects. Great for creating trails and paths while providing a layer of protection for your plants and keeps invasive weeds down by preventing unwanted weeds from sprouting.
Colored Mulch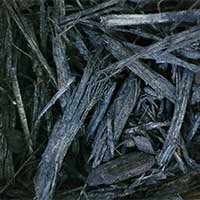 Colored mulch, black, red, and chocolate, can really make a statement. Setting your landscape apart from everyone else's on the block. While taking advantage of all the benefits mulch has to offer.
Black mulch as the added benefits of allowing water to be defused evenly. This allows moisture to reach every part of the soil. The rich color adds an aesthetic beauty, just imagine beautiful greens and colored flowers pop against the dark background.
"I have found black mulch to be invaluable in our home garden AND our Community Garden. We've grown tomatoes with and without it and the mulch makes a huge difference in what the fruit looks like and how much we get.  It's a true garden help." Living In The Green. 
Mention Reliable Peat's blog before you check out and get 10% off all bulk orders over 6 yards. Our goal is to offer the highest quality products at the best price.