What can change a dull landscape in Central Florida into one with great looking curb appeal? The creative use of organic pine bark mulch or rock and stones. The decorative use of landscape mulch brings out the beauty of your plants and flowers, while raising your property value.
You want your yard to look nice, you invest a lot of time and money to make it happen. Though plants are a big focus, it is important not to forget about the non-living features in your landscaping.
Organic Bark Mulch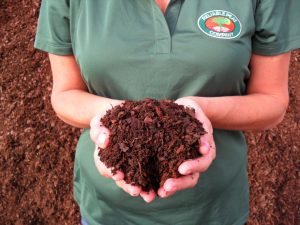 Organic mulch can help the soil retain moisture, while enhancing top soil. Though traditional mulch needs replacing every few years, it also creates a healthy environment for plants by adding essential nutrients to the soil.
For flower beds, gardens and around shrubs and trees, typically organic mulch is the better choice. Organic mulch decomposes over time and releases valuable nutrients into the soil. They also establish a welcoming habitat for beneficial microorganisms and worms.
Rocks and Stones 
Rocks can keep the soil from washing away in Central Florida's torrential rains, it can also help direct all that rainwater away from your home's foundation.
Stones and rocks are an easy and affordable way to enhance your landscape without spending countless hours on maintenance.
It Is Important To Consider Where Your Mulch Comes From
Many bag mulches from hardware or home improvement stores often contain shredded construction debris, metals, and even toxic chemicals that can leach out into the drinking water. Ensure you purchase your gardening material from a reputable landscaping supply company. Not only will you be able to save money by buying in bulk, it will be clean and safe.
There are many options when it comes to mulch, the experienced staff at Reliable Peat can help you answer any questions you may have. Shop now and take advantage of Reliable Peat's Summer discount, 10% off all bulk orders over 6 yards, for both our Winter Garden and Lake county locations.
Shopping at your local business helps the economy. Reliable Peat takes pride in excellent customer service. We have made buying mulch easier and more affordable! Our goal is to offer the highest quality products at the best price.