Adding mulch to your landscape not only makes your home more attractive, it adds significant value. Unfortunately, there are a few myths in the industry that can have your property missing the mark.
So, before you start digging in the garden, get the facts on these common myths.
All mulch is basically the same.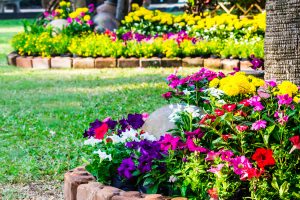 This is definitely a myth that needs clearing up. There are many mulches on the market, and it is important to choose the one that best fit your needs. 
Some bark mulches have been sitting in a bag on a warehouse shelf for months if not years, while others are fresh and vibrant. 
Some mulches increase the acidity of the soil, which is great if you have plants that like this type of condition, but if you don't, it's not so good. 
Some mulches are great at preventing erosion, others add valuable nutrients to the soil. 
It is important to do a little homework and find the best mulch for your situation. Fresh, healthy mulch from a local distributor is a great way to the most bang for your buck. 
The more mulch the better
More mulch is definitely NOT better! More that 2 to 4 inches and problems can start to arise.   Too much mulch decreases the oxygen supply and will require the plant roots to work harder. It also prevents beneficial microbes in the soil from breaking down organic mulch. 
Piling up much against the trunk of a tree, 'volcanos', makes it more susceptible to wind damage, stress, and drought. It can also create excess moisture and promote rot. 
Organic bark mulch takes the nitrogen out of the soil
Just the opposite is true, when organic bark mulch breaks down, nitrogen and other vital nutrients are released into the soil. Readily available for your plants to use.
Reliable Peat makes it easy to have a beautiful healthy landscape.
If you want to get a great deal on all types of mulches, contact Reliable Peat. We have great Spring specials and we even deliver! We are located in Winter Garden at 14909 West Colonial Dr. And in Groveland an 26744 CR 33.
Don't forget to take advantage of our Spring Special, 10% all bulk orders over 6 yards!