Stone, gravel, or wood mulch? It is a question many Orlando and Lake County homeowners and landscapers ask, both have their advantages.
Advantages of Stone based Mulch and Ground Cover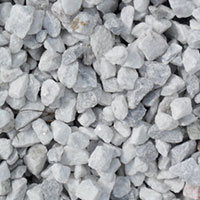 Minimal Maintenance: Stones can last for years with very little maintenance. Since they don't break down like organic mulches, they don't need replacing, they don't fade in color, and they don't get blown or washed away in Central Florida's torrential downpours.
Durable: Stones and gravel are a great solution for areas of your property where ground cover needs to be durable, such as driveways, pool areas, and walkways. Stones, gravel, and rocks can stand up to heavy use, even cars.
Reduce Insects: Wood chips and mulches decompose over time, bugs are attracted to decaying organic matter. Stone and gravel minimizing the risk of an insect problems because they are inorganic and won't decompose. They also discourage bacteria and fungal growth, which is important in our humid environment and if your landscaping has trouble with diseases.
Aesthetics: Stones can come in a variety of sizes, shapes, and colors to complement your home. They can add a texture appeal and visual visual curb appeal to your home, while solving any drainage issue.
Popular Stone Ground Cover
Pea Rock: Gets its name because it is the size of a pea, from 1/4 inch, 1/2 inch and 5/8 inch.
White River Rock: Usually 1 inch in diameter. Great for brightening up a shady spot, creating dry creek beds, and help with drainage.
Marble Chips: Have a high end, luxurious feel and sparkle, generally used in high visible flower beds.
Small Brown River Rock: Great for Florida friendly xeriscapes, these smooth pebbles have warm colors and help with weed control.
Cedar Bark Rock: This lightweight stone has the rich appearance of cedar bark. Very popular choice for landscapers because the natural appearance works well with many designs and it won't decay.
There is a large assortment of stones on today's market, from small gravel, crushed stone, to large stones. Purchasing any type of stone or gravel in bulk is less expensive than by the bag. As a leader in the industry, the experts at Reliable Peat can answer any questions for your next landscape project.
Reliable Peat also has an affordable delivery service, contact us for more information on our products.