For residential landscaping in Central Florida, river rock is one of the most popular types of stone mulch. Because it comes in a wide variety of colors, shapes, and sizes, makes it the perfect fit for several applications and designs.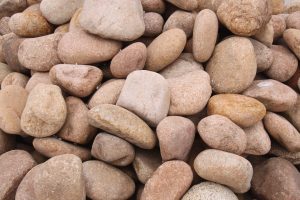 What exactly is river rock?
River rocks have a rounded smooth shape. This refined appearance comes from years of water currents wearing down and polishing the rocks. This water aging process is responsible for the interesting colors and shapes. Some even have the look of precious gems.
Why is river rock so popular in landscaping?
River rocks incorporates a unique element to the landscaping. It is a very versatile and adds an elegant finishing touch. Whether it is used around plants and trees, driveways and paths, or as a focal point or prevent erosion, the design elements are endless.
Dry Bed Creek
Dry Bed Creaks add an interesting visual element and a great solution for a drainage issue on your property. Since river rock were shaped by water they are perfect for this application. They have a natural look winding around plants and boulders.
Landscaping Mulch
River rock is often used instead of organic materials in landscape designs. They don't need to be replaced as often as wood based mulch. The contrasting colors make greenery and flowers 'pop'. Great for preventing erosion, filling in a border area and around a swimming pool.
River Rock Path
For a path smaller river rocks work best with some type of boarder, such as pavers for a designer feel. They also feel better underfoot.
River Rock can be used for many applications. Though it is not especially difficult to install, transporting them is another story. Reliable Peat not only delivers all their organic mulch and rocks, we also offer a 10% discount on order over 6 yards.