Looking for a great way to define a garden area or brighten up your landscape? One of kind ceramic containers, beautiful pots, and weather vanes are an easy way to create architectural features in your yard. There are many ways to arrange containers to add interest to your landscape.
Maximize your Central Florida Landscape with Mulch and Colorful Pots and Containers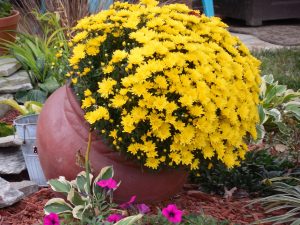 Use Containers to define an area: Whether you want to add visual interest to your front yard or create a defined garden area in the back, colored containers are the way to go. When creating any kind of garden space, whether it's a room or a hallway, start with a corner.
"As long as you have strong corners, it feels much more like a room," says Steve Silk from HGTV. "Then you can easily connect the dots between the corners and enclose your room."
Adding architectural interest: Mix a variety of size pots with sculpted plants to create a unique eye catching design. Enhance the look by planting contrasting or matching foliage with the color of the container. The great thing about pots, you can move them around until you get the look you want. "Find a pot with a nice sculptural form or beautiful color, and it becomes an art object all on its own," says Steve. "Place an interesting pot as a focal point or to anchor a seating area." Weather vanes can add a fun whimsical feel to your garden.
Edible container Gardens: There are many fruits, vegetables, and herbs that grow well in containers. Especially great if you don't have enough time to take care of a big garden. Just imagine having tomatoes, zucchini, peppers, basil, onion, and even a lemon tree, just outside your back door. Without all the time and hard work of a traditional garden.
Popular container gardens include, succulents, different types of lettuces, salsa garden, and colorful annuals.
It is important to choose a quality container that can withstand the Central Florida environment.  Ceramic is the choice of professionals because they stand the test of time without fading.
For a limited time, Reliable Peat has all their one of a kind colored pots and water vanes 25% off.